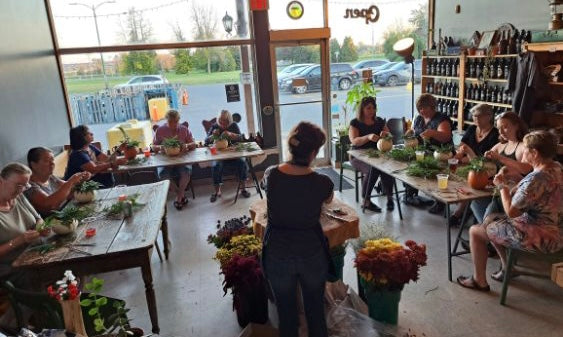 Collection:

Workshops

Join us for fun and informative evenings of Floral Arranging workshops held through out the year in the shop. They are a unique way to have a relaxing evening out with some friends, or come and meet some new friends!

Sign up for our emails to stay informed of upcoming Workshops or subscribe to notifications on our Facebook page. 

In addition to our in-shop regular workshops, we can also do workshops for Fundraisers, Kid's Birthday Parties or anything else you can dream up where a flower arranging workshop would add to the fun of your event! Workshops can be held at the shop after hours or in your home or other venue. 

We even offer DIY Bridal workshops for the bride who wants to save a little  and make her own centerpieces.  Come to the shop with your bridesmaids, mom and mom-in-law-to-be and you will be led step by step to create your own fabulous fresh floral centerpieces! You can also rent space in our cooler to keep the arrangements fresh until the hall is ready for set up.  Delivery is also an option. Call the shop for pricing. 
Sorry, there are no products in this collection